Antara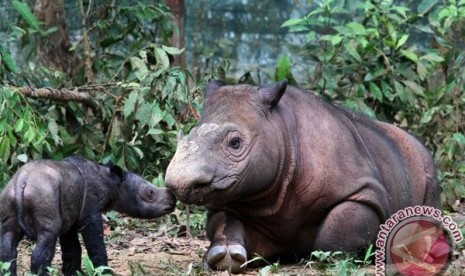 Wednesday, October 2, 2013 , 16:55 pm
REPUBLIKA.CO.ID , BANDARLAMPUNG
After finding traces Sumatran rhino in Borneo , a joint monitoring team of the WWF - Indonesia and West Kutai regional government and other partners , again managed to get the physical evidence the existence of Sumatran Rhino in West Kutai , East Kalimantan through video trap .
" The physical evidence has become very important to restructure and develop rhino conservation efforts in Indonesia are more comprehensive , " said Minister of Forestry , Zulkifli Hasan finding the video announcing the opening of First Asian Rhino Range States Meeting , a ministerial meeting of countries spread rhinos in Asia that took place in Bandar on Wednesday , 2-3 October 2013 .
Zulkifli explained , the video image was obtained after a joint monitoring team conducted a study to install 16 video-camera ( videotrap ) which operated for three months . Video was taken from several different locations and the results are quite surprising as well as presenting new evidence , the visualization of the first video where the two -horned Sumatran rhino ( Dicerorhinus sumatrensis ) in Kalimantan .
" This discovery represents the hard work of many people and become one of the donations to reach the target population of rhino in Indonesian growth of three percent per year , " said Minister of Forestry .
According to him , it needs further study and the cooperation of many parties , including local communities , corporations and other parties concerned to immediately take appropriate measures for the conservation of the Sumatran rhino in Borneo , particularly in efforts to improve the protection and security of rhinos and their habitat .
Forestry continues , images recorded on video is one of them shows the pitfalls of daily activity that is wallowing rhinos to lower his body temperature . Other images are obtained rhino ongoing activity and foraging .
Nazir Foead , Conservation Director of WWF - Indonesia said , " A joint team from the local government , RPU , and WWF has conducted regular patrols in the important areas . We call on all parties , in Indonesia and around the world to take part immediately to save rhinos in Indonesia, especially Sumatran rhino in Borneo . "
Picture rhinos known activity recorded at 23 and June 30 and August 3, 2013 . All rhinos are captured in this video , is estimated to different individuals , but required further research experts to make sure.
Ministerial level meeting , Firts Asian Rhino Range States Meeting held in Bandar October 2 to 3 , which was attended by representatives from Indonesia , India , Malaysia , Nepal , and Bhutan .
Editor : Karta Raharja Ucu