Eco Tour Home betang "Star Patendu" Katingan Regency and "Lion Jaya Antang" mute Fall District East Kotawaringin
(4 Days, 4 Nights)
Day 1
The journey begins from Palangkaraya Samba tumbles toward the village on the outskirts of the Katingan river via land use Travel approximately 3.5 hours drive, continue to use kelotok towards Tumbang Kaman river side of Samba to see betang (House of Long Dayak people), the youngest betang "Stars Patendu "betang and watch the night in Art, Culture and Everyday Dayak people who will be presented by Mr. Saer SUA and local people.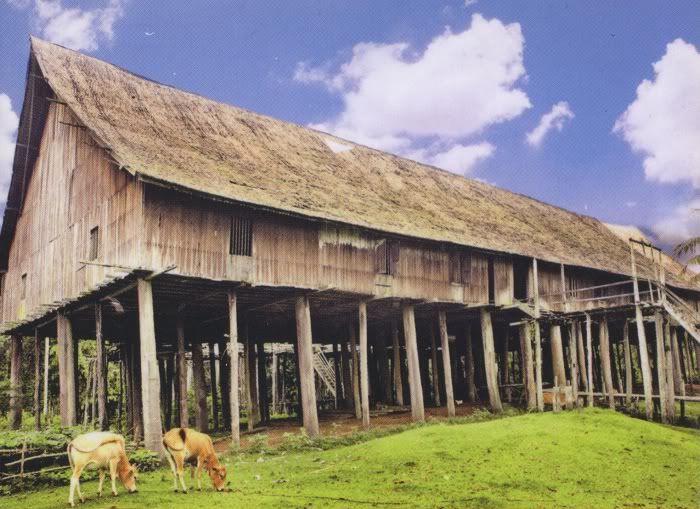 Day 2
Kelotok ride back to the village of Samba Fall Tanggaring must address are forwarded to the Village along the Katingan River (6 hours) by using Taxi Kelotok engined car, along either side of the river can be witnessed daily life Katingan Dayak people and through 4 (Four) cascade / Jeram (Riam Mangkikit, cascade Bandang, Taberang cascade, cascade LELENG).
From the Village must address Tanggaring adventure continued withHeaking (Jungle Tracking) for approximately 2.5 hours to pass through the Wild Forest, Fruit Garden, Field and Rubber Plantation.
On the way through the jungles of Borneo to mute the founding of the Village Fall betang Antang can Kalang
kesaharian enjoyed and witnessed the life of the Dayak (Rubber Tapping, farming and hunting) and enjoy the sound of the Original Bird Kicau Central Kalimantan and other Forest Animals (Monkey, Squirrel etc.) and can see the different types of orchids Forests and forest fruits.
In this trip can also be witnessed milestones large Ulin Wood used as an ingredient harvested betang already making hundreds of years old and there is even a still growing back from the former ironwood trees being cut down, spend the night in betang tumbles mute.
Day 3
Enjoy and see the uniqueness and natural beauty around betang oldest still standing strong until now betang "tumbles mute", built in 1870 by Antang Kalang (Lion Jaya Antang) and his family betang tumbles mute on the outskirts of Kalang River, you will enjoy the beauty and splendor betang Antang Kalang who stood firm and very large with a size of 54 meters length and width of 16 meters with a height of 6 meters of land and hundreds of poles betang that all of ironwood, can also be witnessed daily lives Dayaks in Kalimantan Inland Wilderness, Natural Beauty around betang and the sound of forest birds are very melodious.
In the afternoon drive home from betang Antang Kalang back to the Village must address Tanggaring, spend the night in the Village must address Tanggaring in February-March at the peak of fruit season, visitors can enjoy various kinds of fruit typical of Central Kalimantan, along the travel route
Day 4
Coming back to the village of Samba Fall with kelotok in the morning proceed to Palangkaraya Travel premises.
"Explore the Wisdom of Art, Culture and Natural Beauty Land Dayak,
Earth Tambun Bungai Central Kalimantan "